As a family-owned business, Seafood Merchants knows the importance of providing first rate customer service. In our experience, quality customer service is a direct by-product of effective communication. Step through the presentation below to find out how an order is received, packed and delivered.
Slide 1
Friendly Sales Staff
Your Seafood Merchants experience begins with our friendly and knowledgeable sales staff. Planning your menu or looking for a special card item? Give us a call. We're always happy to share the latest industry news. Our sales staff will never make blind substitutions or leave you high and dry. If there is a problem with your order, we make every effort to alert you so we can find suitable substitutions.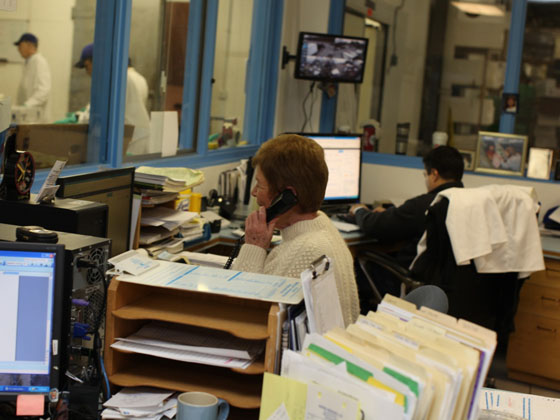 Slide 2
The Handoff
Sales ace Gayle Janes checks on the status of an order with driver Abraham Cruz. By interacting directly with the people who pack and deliver the orders, we are able to better serve our clients.
Slide 3
Shipment Arrives
The sheer volume of fish and seafood that flows through Seafood Merchants can be shocking to the uninitiated, but the receiving team moves like a well oiled machine.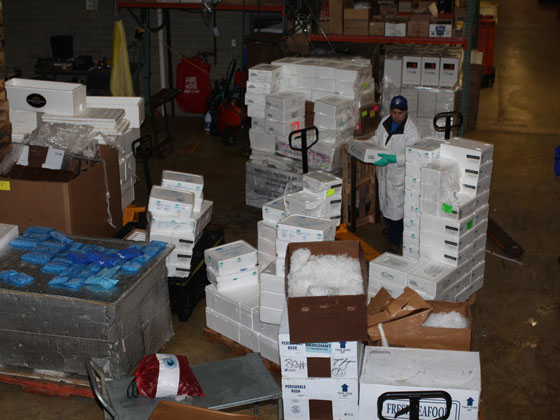 Slide 4
Gill Check
When we receive a shipment, our receiving staff springs into action. Fish are checked for proper temperature, weight, gill color, firmness of flesh, odor, and clearness of eyes. Discrepancies in any of these categories are cause for rejection. Because of our exacting standards, our vendors have learned to only send the best of their catch to Seafood Merchants.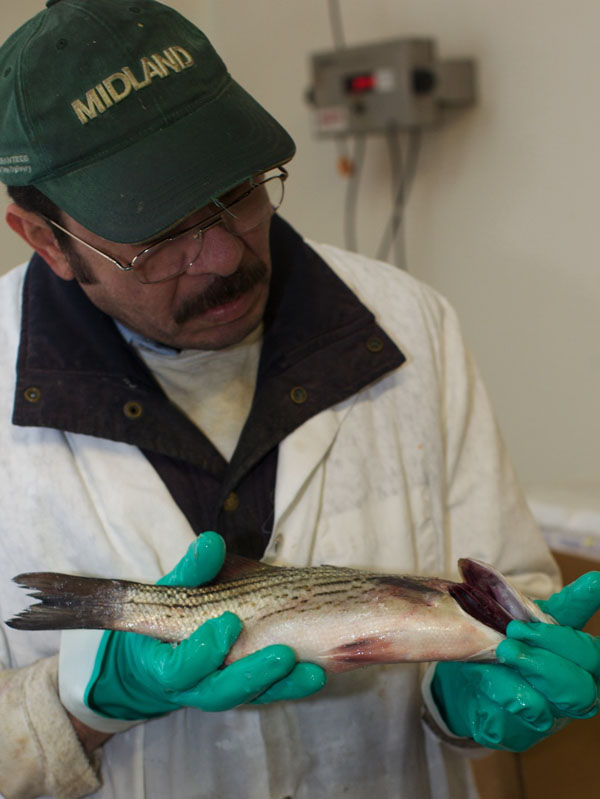 Slide 5
Temperature Check
Every item that is received by Seafood Merchants goes through the same rigorous process before it is deemed acceptable. Here a shipment of mahi-mahi is temperature checked by Pablo Ocampo.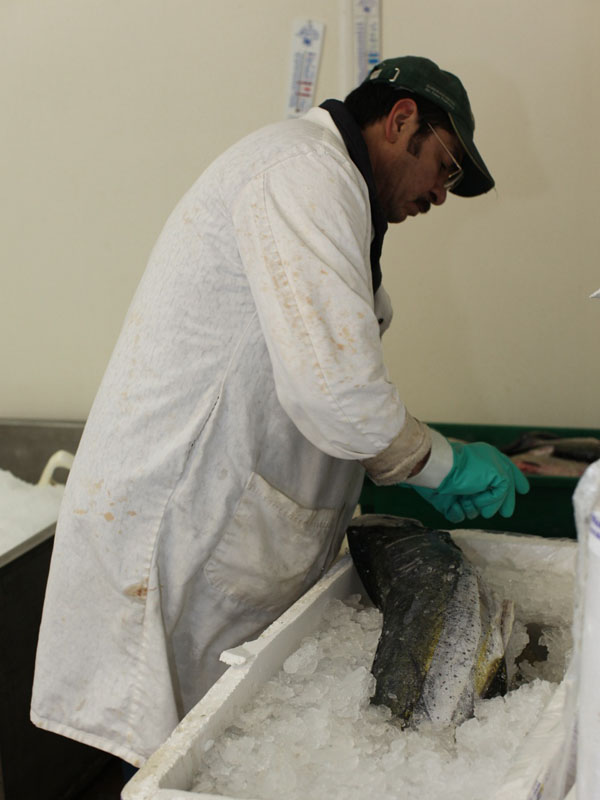 Slide 6
Exact Specs
At Seafood Merchants, our drivers are our eyes and ears. Because they interact with our chefs in the kitchens, they get to know chefs exact specifications. In this photo, driver Brian Betkin discusses specs with master cutter Domingo Ocampo.
Slide 7
Cutters at Work
The sun hasn't risen yet, but the Seafood Merchants cutting crew are hard at work.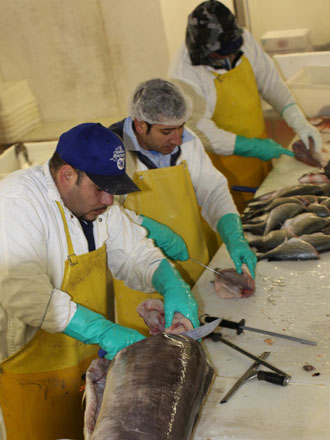 Slide 8
Orders taking Shape
Driver Abraham Cruz prepares his daily route for delivery.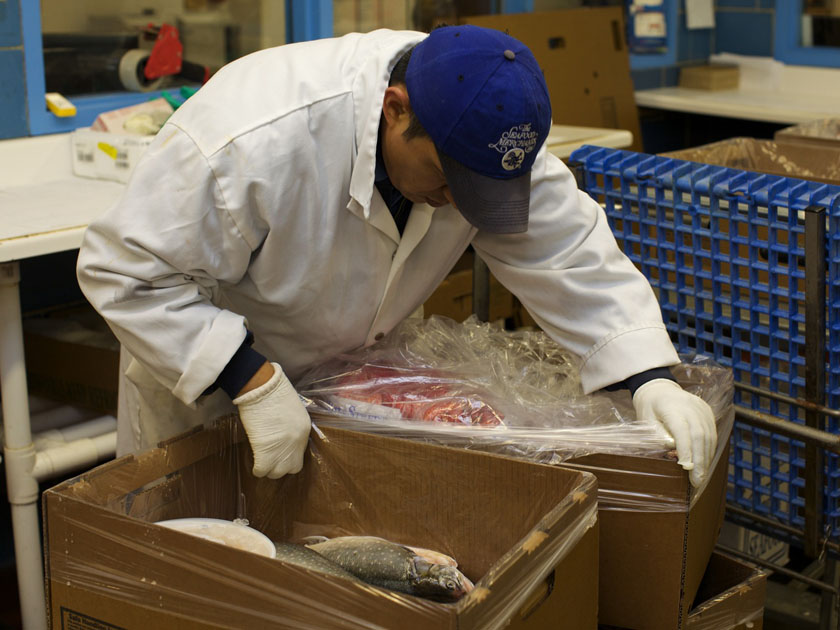 Slide 9
Ice Up
Each order that leaves our warehouse is packed in ice. As Chicago enjoys a wide range of temperatures, ice protects from summer heat as well as winter cold. Care is given to wrap fillets so that ice never comes in contact with fillets or buries live oysters or clams.
Slide 10
Leo Getting Ready
Care is taken in every step of the process to insure a constant temperature of fresh seafood products. Here driver Leonel Chino loads today's deliveries into his temperature controlled van.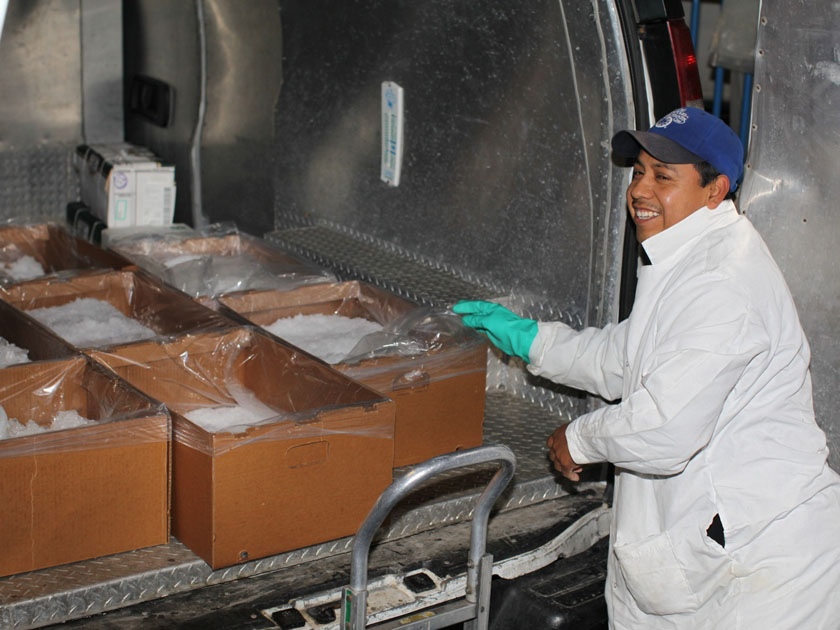 Slide 11
Delivery
The final stage of the journey. Here driver Leonel Chino hands off an order of fresh seafood to Chef Mychael Bonner.